The Escapist Experience
Quinine's webinar series discusses, defines and validates the meaning of 'Retail Experience'. Here, in our seventh and final exploration of the defining elements of retail experience, Design Director Alex Whitlow and Creative Director Ian Johnston take a deep dive into the meaning of 'escape' within retail.
In an earlier episode we introduced our 'Retail Experience Framework' tool. In this article, we look in depth at the 'escape' element of that framework and its crucial role in creating a meaningful connection with the retail customer.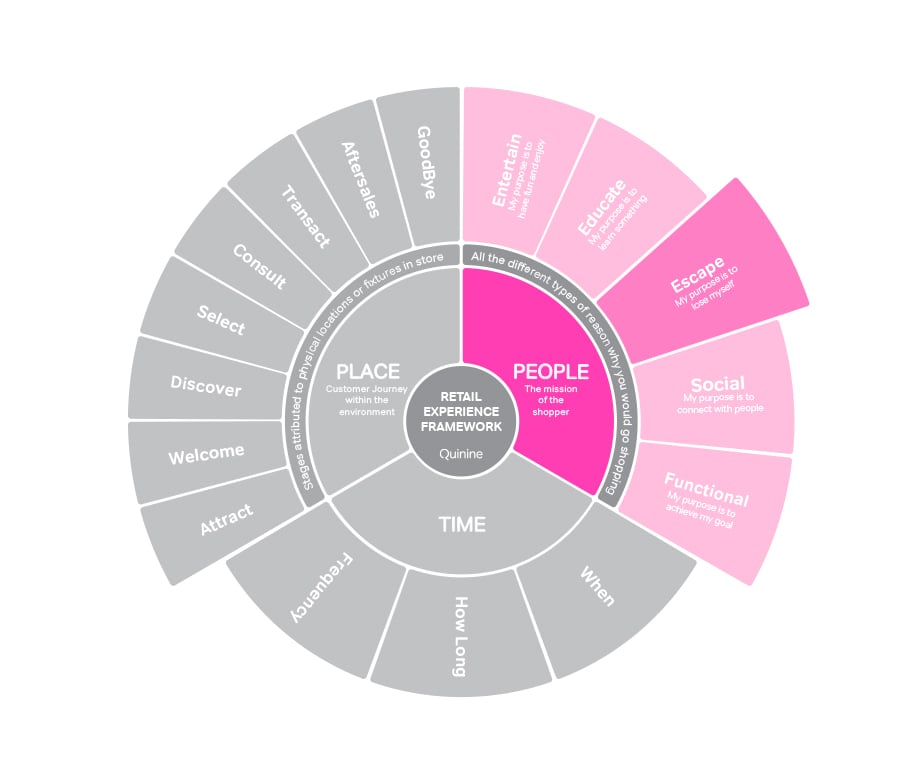 Quinine defines escape as losing oneself within the retail environment. Escape is about seeking respite from the everyday and getting perspective on our lives. Unlike the Functional, Social and Educational realms, Escape is uniquely subjective to each person. While certain activities and experiences might appeal to one person and enable them to escape, others might seek to connect with something else in order to achieve the same outcome.
This idea of escape is not new. Throughout history, religious and cultural institutions have all facilitated the opportunity for people to reflect upon their day-to-day lives, often supported by awe-inspiring architecture; cathedrals, palaces and grand museums all enable people to lose themselves, if only even for the briefest of moments. The power of architecture to transport people continues to have a place in society today. Nowadays, people can escape in many other ways as well. Whether it be the annual family holiday, drinks with friends, hobbies or sports. These can all offer an opportunity to refresh, replenish, renew or rejuvenate.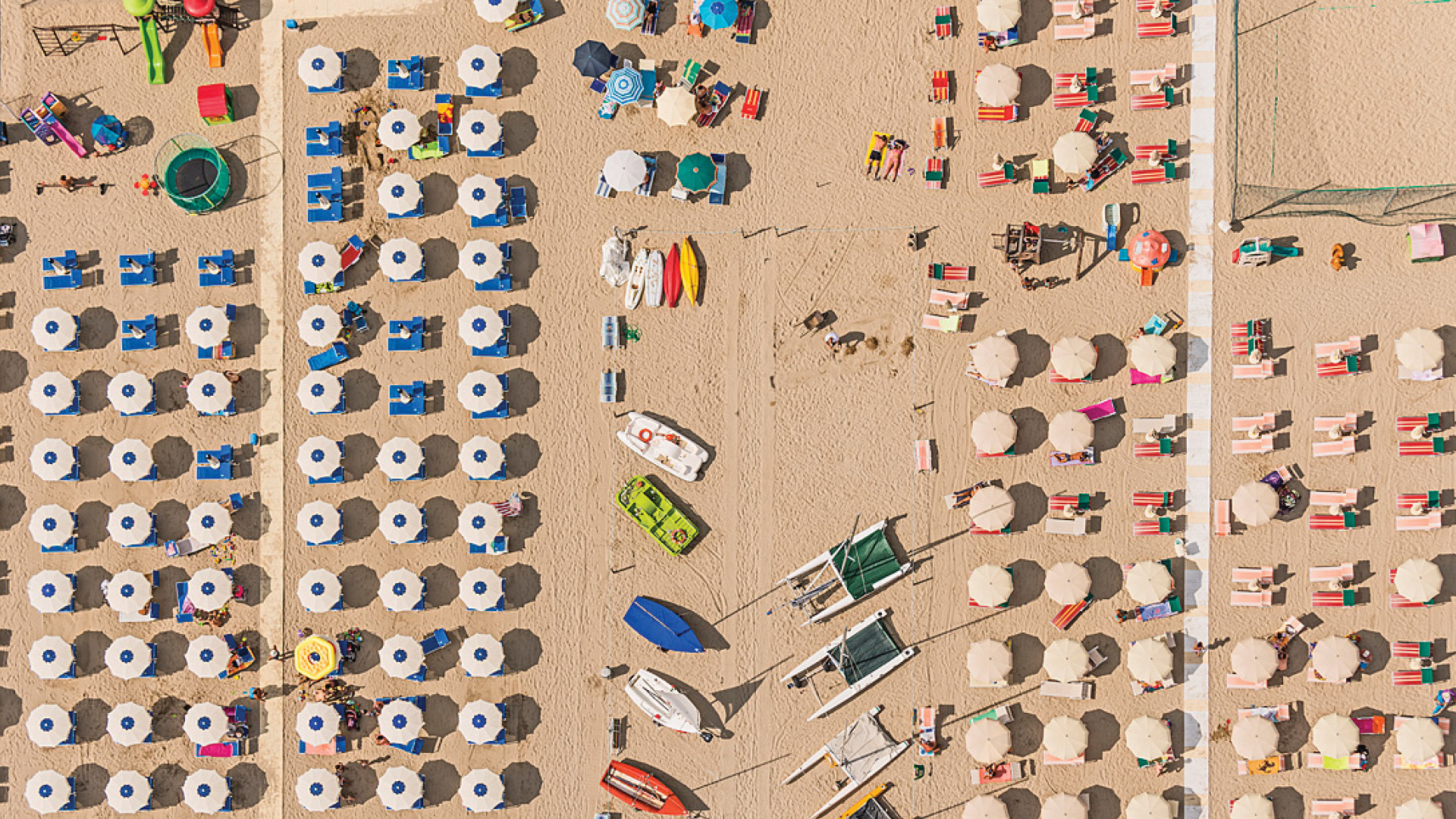 Escapist activities are important because they can give us a new perspective and allow us to reflect on other aspects of our lives. With stress accounting for almost three quarters of healthcare visits in the UK, we often find an element of escapism to be an essential component of personal wellbeing. Fundamentally, we escape from our reality in order to better understand it and improve it.
Modern life is complicated. We live in the midst of global, economic and political uncertainty, yet most of us today lead rich and interesting lives. We would suggest, it is the very notion of these hyper-rich lives that creates an even greater need to escape.
Some people aim to escape this hyper-rich day-to-day life by embracing a more stripped-back and basic lifestyle approach. Others will react by pushing things even further, finding new ways of making typical escapes - such as skiing and yoga - more difficult or extreme. As a result, we now have heli-skiing and even goat yoga.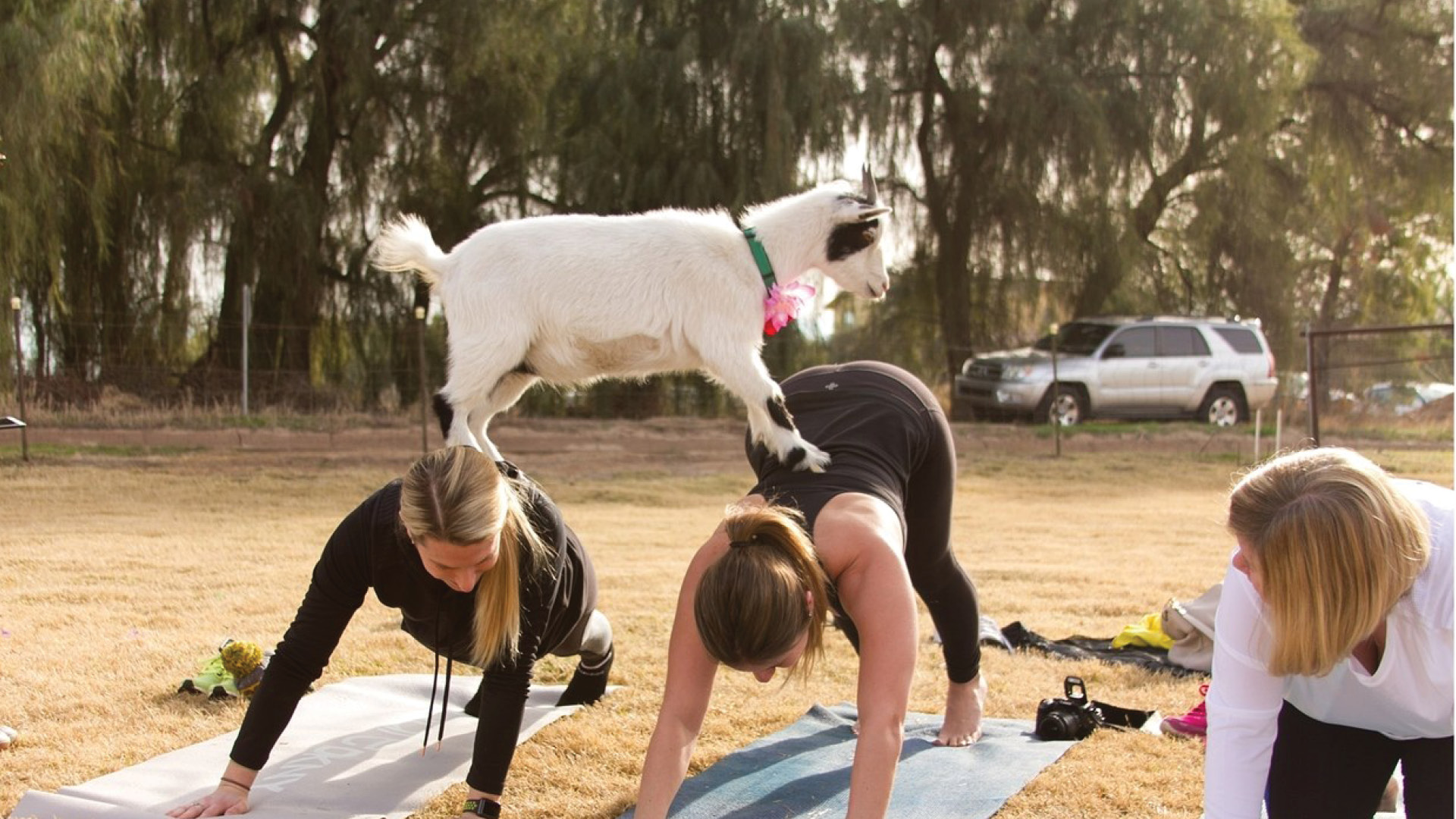 So, what is our mindset when seeking out these escapist opportunities? In search of an escapist experience people might ask themselves a series of questions. Firstly, how will they embrace an experience in order to escape – will it be an experience reliant upon removing distraction and creating an internal focus? Think for example about how people use meditation as a means to get rid of external stimulus in order to escape. Or secondly, at the other extreme, will the experience demand external influences, including the adoption of rich environments, props and people - the Disneyland approach? Quinine's 'Spectrum of Approach' – which places internal focus at one end and external influence at the other – helps us understand that the majority of experiences currently fall somewhere in the middle of this spectrum.
People might consider what type of experience they want in order to escape? Do they want a familiar experience? This might be as a catch up with friends. Or do they want a new experience? Maybe this is visiting a new place, meeting new people or attending a new type of event that they haven't been to before.
And finally, individuals will also think about where this escape will take place. In general, the expectation and need of people today is to be able to escape anywhere. We want to be able to experience escapism via a whole range of activities and locations, and that includes within the retail landscape.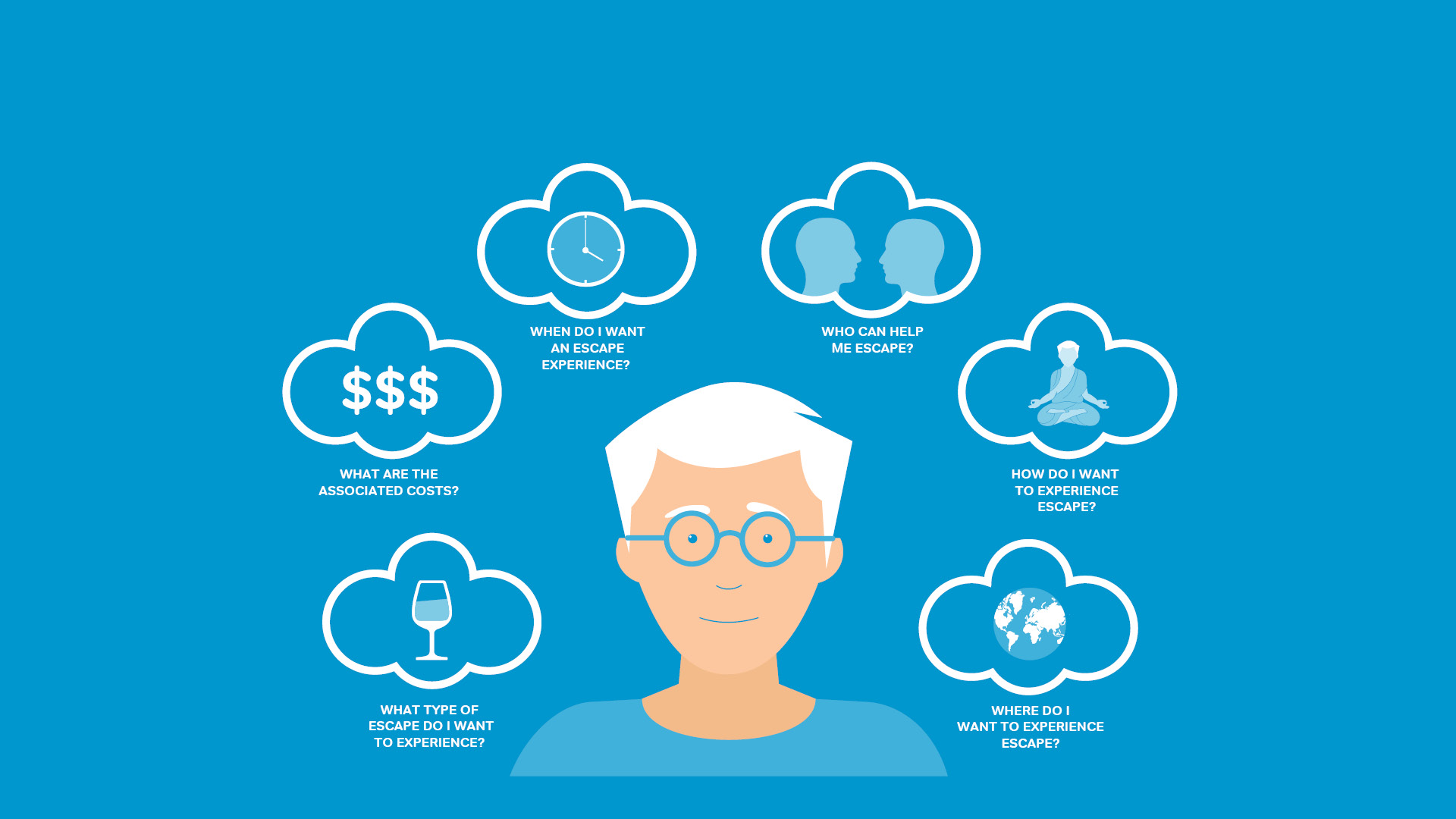 By facilitating escapist experiences retailers can offer their customers a valuable opportunity to refresh, reflect and re-engage with themselves. While facilitating opportunities to find some internal focus on the high street is interesting, Quinine believes that retailers who concentrate on rich external influences, using a mix of props, environment and people are most likely to create opportunities for customers to escape in their stores.
How can individual retailers facilitate escape in their stores? Firstly, we remind ourselves that before any experience realms are introduced, a store must 'work' functionally, it must be frictionless. This is crucial for escape experiences to exist. It is also important to remember that by its very nature the escape experience needs to be immersive – it cannot be incidental. In order for someone to escape from their everyday, they need to be fully engaged and involved.
Achieving these immersive escape experiences in-store is not something you can 'design'. It is a by-product of perfectly executing all the other aspects of the retail experience.
If you design brilliant Functional, Social, Educational and Entertaining realms you will very likely facilitate Escape. Either the combination of those realms, or an individual realm brilliantly executed, is what unlocks the notion of escape within the store. Customers can forget they are shopping.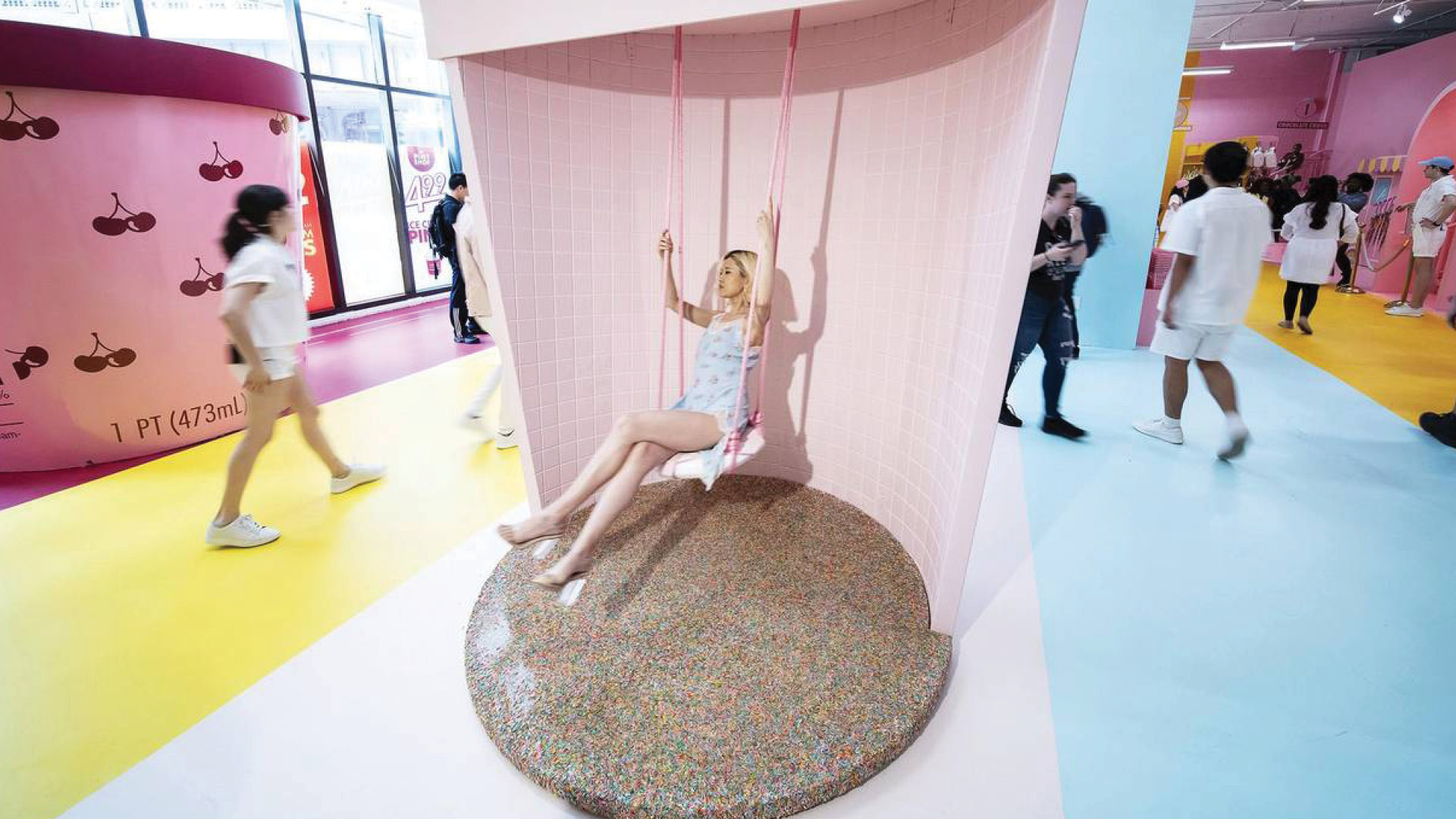 Chinese grocery retailer Freshippo, for example, excels at the functional mission. The convenience retailer facilitates that goal through aspects such as facial recognition transactions in-store, click and collect from its website and home delivery within 30 minutes of placing an order. But it also leverages its shopping app to upscale functional missions into an educational experience: after scanning, customers are given useful information about the product, its origin, nutritional value and how to cook it. The brand also invests in a huge range of discovery opportunities in-store, from fresh seafood tanks to restaurants with robot waiters. This is a convenience retailer, up-scaling its offer with moments of discovery, opening the door to an escapist experience.
Getting customers to socialise in-store presents a great opportunity to build deeper connections with a brand too. Cycling brand Rapha has built a community around its 'clubhouse' store concept. They provide a social space to relax and catch up with fellow cycling enthusiasts and are the base for weekly group rides. Rapha uses the 'social realm' as the driver to create connections with their customers, presenting their products as a secondary focus. As customers sit watching a race on the big screen whilst sharing a coffee, despite being surrounded by Rapha merchandise, it is easy for them to forget that they are 'shopping'.
Apple is a master at integrating more than just one of the experience realms – functional, social and educational realms all thrive. However, central to their brand strength is their focus on the 'educational realm'. Staff with huge levels of expertise walk the shop floor and man the Genius Bars. Apple truly excels at delivering education at the aftersales stage, where they not only teach consumers how to use their products, but offer courses on other life skills such as photography, music, art and design.
Fun is at the centre of the Nike's retail landscape and it ticks all the right boxes within the 'entertain realm'. It too facilitates multiple realms well, but throughout its new, theatrical and imposing 5th Avenue Store in New York it captivates the imagination through its entertaining storytelling. From the eye-catching window displays to the staff, who are enthusiastic and passionate; the retail experience offers multiple opportunities to lose oneself in the brand.
Retailers seeking to differentiate on the high street, will all need to focus on creating and maintaining many more experiences that result in 'escape'. To reiterate escape experiences are not designed. They are the result of a retailer executing all of the experience realms brilliantly well, and in a way that is appropriate to their brand.
When they do this, they will have the opportunity to deliver escapist experiences to customers. They will be providing them with a space where they can forget they are in a retail store. In essence, encouraging customers to escape to the shops, rather than from the shops. This is when they will have truly achieved experiential retail.
This article is Episode 07 of Quinine's webinar series on the topic of 'What is Experiential Retail?'. Details of all other titles can be found here: